Following Muqtada Al-Sadr's call for a one-million-man march to end the presence of the U.S. military in Iraq, a website funded by Grand Ayatollah Ali Al-Sistani's Al-Kafeel International Network released a statement from the Grand Ayatollah made in December 2019 reminding Iraqis that there are some parties that wish to exploit them in order to serve the agendas of others. The following report will examine Al-Sistani's recent warning, instructions from Al-Sadr to his supporters, and related reactions.
The Al-Sistani Response To Al-Sadr
On January 15, 2020, a website associated with Iraq's top Shi'ite cleric, Grand Ayatollah Ali Al-Sistani, warned against the call of Muqtada Al-Sadr, whom Iraqi protestors see as Iran's new favorite Shi'ite cleric in Iraq, for a massive demonstration to end the U.S. military presence in Iraq.
The official website of Al-A'taba Al-Abassyia, which covers activities related to Imam Abbas' shrine in Karbala, Iraq, and is sponsored by Al-Sistani's Al-Kafeel International Network, re-published a statement that the Ayatollah made on December 6, 2019, in which he strongly warned "against those who seek to exploit the protests that call for reforms in order to achieve certain goals that will hurt the utmost interests of the Iraqi people, and are not in line with their true values."
"We are here republishing the Highest Authority's sermon from December 6, 2019, as a warning," the website explains. The website also tweeted the statement using a hashtag that translates to "Tahrir Square," the key location for the anti-government protesters in Baghdad.
Over the past three months, Al-Sistani has been critical of Iran's use of Iraq as a proxy battleground for their war against the U.S., as well as the involvement of Iran-backed Iraqi militias in the killing of protesters. Al-Sistani also condemned the recent American and Iranian attacks in Iraq, saying they represent "flagrant violations of Iraq's sovereignty."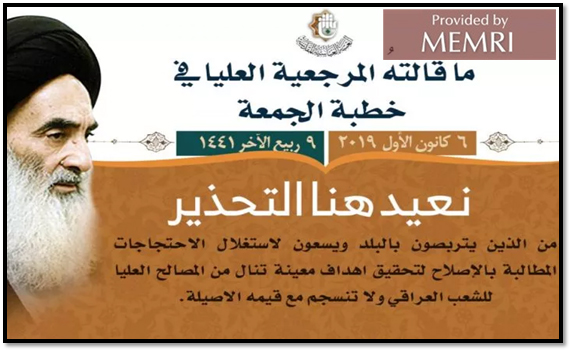 Al-Sistani's warning (Source: Alkafeel.net)
Al-Sadr Issues Instructions For Supporters
On his side, Muqtada Al-Sadr's online spokesman, who goes under the name Saleh Mohammad Al-Iraqi, tweeted instructions for Al-Sadr's supporters regarding the mass demonstration that Al-Sadr and commanders of the Popular Mobilization Units (PMU) called for on January 14.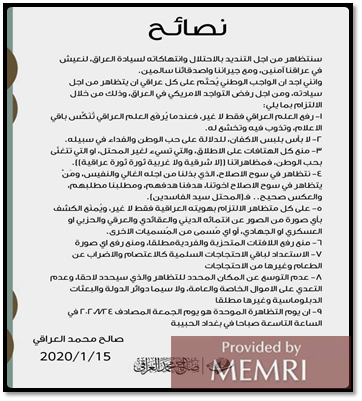 Al-Sadr's Instructions (Source: Twitter.com)
"We will demonstrate to denounce the occupation and its violations of Iraq's sovereignty. To live in a safe Iraq with our peaceful neighbors and friends," it says.
The statement stresses that those who will take part in the demonstration should only raise the Iraqi flag, and should, preferably, wear white shrouds, a sign that reflects "their readiness to sacrifice their lives for the love of their homeland."