By: A. Smith
Recently in Turkey there have been reports that in 2019, Turkish President Recep Tayyip Erdoğan's government released from prison at least 32 men who had been sentenced to life in prison for their involvement in over 100 murders and membership in a group that in Turkish is referred to simply as "Hizbullah," but to avoid confusion with the Lebanese group by the same name, is in English alternatively called Kurdish Hizbullah, Turkish Hizbullah, and Hizbullah in Turkey. The oft-repeated conventional wisdom is that this Turkish organization has no relationship to the better-known Iran-backed Lebanese organization by the same name. Several facts indicate tht this is not the case, and that Hizbullah in Turkey has received funding, logistical support, and training from the Iranian government.  
This analysis will review: the Turkish government's release of Hizbullah members convicted of murder; the Turkish opposition's response to news of the release; evidence of Iranian funding, logistical support, and training for Hizbullah in Turkey; and some of the activity of Hizbullah in Turkey today.
2019 Release Of Mehmet Sal

ih Kölge, Deputy To Hizbullah Leader Hüseyin Velioğlu, 31 Other Men Responsible For 157 Operations Resulting In 91 Deaths
On April 25, 2022, Turkish journalist Özgür Cebe reported that right before the March 31, 2019 local elections, the Turkish government released from prison one Mehmet Salih Kölge, who had been the deputy of Hüseyin Velioğlu, the leader of Hizbullah in Turkey who was killed in a shootout with police in Istanbul on January 17, 2000.
Kölge had been given an "aggravated" life sentence in prison for ordering the killing of 91 people between 1992 and 2001 and for attending interrogations that involved torture and "hogtying." The court was unanimous in confirming the ruling at the time, and said that he was responsible for giving orders and instructions for 157 armed incidents in which 91 people were killed and 66 others were injured in the Turkish cities of Gaziantep, Şırnak, Mardin, and Batman.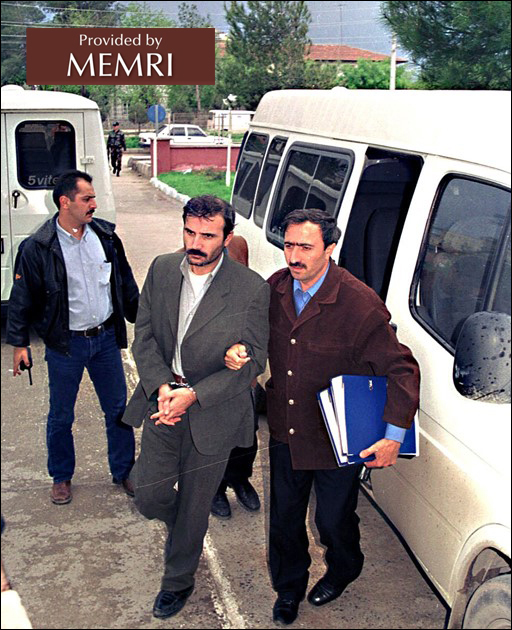 Mehmet Salih Kölge (source: Cumhuriyet.com.tr)
Kölge reportedly discovered the Hizbullah organization while working in a bookshop in the city of Nusaybin in Turkey's Mardin province. In a short time, he rose in the organization to reach its shura (i.e., high council), and worked in the information-processing center in safe houses connected to Velioğlu "to upload encrypted documents to computers." Kölge was at the shura at which it was decided that Diyarbakir Security Director Gaffar Okkan, who was known for his robust stance on policing Diyarbakır and whom the organization held responsible for the death of its leader Hüseyin Velioğlu, would be assassinated. On January 24, 2001, in Diyarbakır, as many as 10 attackers using long-barreled rifles and intersecting fields of fire participated in the assassination of Okkan, which resulted in the deaths of Okkan as well as four bodyguards, Sabri Gün, Mehmet Sepetçi, Atilla Durmuş, and Selahattin Baysoy, and one administrator, Mehmet Kamalı. Thousands of people attended Okkan's funeral, and the BBC and CNN reported on the assassination at the time.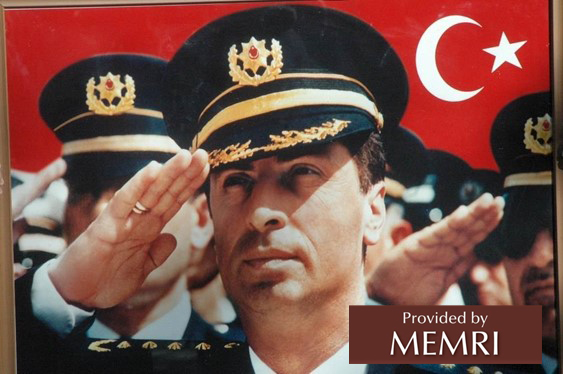 As many as ten assassins using long-barreled rifles and intersecting fields of fire assassinated Gaffar Okkan in Diyarbakır on January 24, 2001.
The court's judgment recorded that after one Salih Karaaslan, a former member of Hizbullah, had decided to marry Özgür Elmas, a former konsomatris at a bar in Gaziantep province, Kölge told Karaaslan: "The congregation [i.e., Hizbullah] will not permit this disgrace. You are a Muslim. Abandon this woman or you will both die." Despite this threat, Karaaslan and Elmas got married. Kölge later hogtied, interrogated, and tortured the couple in the basement of a home in Gaziantep before strangling them to death. The ruling further recorded that Kölge, concerned that Karaaslan's older brother Mehmet Ali and cousin Hamza, both of whom knew about this incident, may go to the police, called the two men to the basement of the same home, where he had them strangled to death. He buried the corpses of Salih, Mehmet Ali, and Hamza in the basement and poured concrete over the spot where they were buried. Giving the justification that her corpse was namahrem,  Kölge buried the corpse on the side of a road in Kahramanmaraş. The court noted that Kölge had shown the locations of the corpses.
Kölge later filed an appeal, and the court found that according to the European Convention on Human Rights and the European Court of Human Rights, because the case had not been concluded in a reasonable time and a military judge had been on the committee in the process of the trial, Kölge's right to a fair trial had been violated, and Kölge was discharged in the context of a new trial. While the dates of Kölge's conviction and appeal are unclear, Murat Bakan, member of parliament representing İzmir for the opposition CHP, recently said in parliament that in 2018, the Constitutional Court in Turkey had ruled that a military judge being found on a judicial committee was cause for retrial. For this reason, and the timing of his release in 2019, it is possible that Kölge's appeal happened sometime in 2018.
On May 6, 2022, Turkish news outlet Tele1.com reported that from January to April of 2019, around the same time that Kölge was released, the government had released another 31 Hizbullah members, 19 of whom were connected to the same 91 killings and all of whom had been given aggravated life sentences. The Diyarbakır criminal court had charged these 19 men separately in 2007 with "establishing an Islamic state on the Iranian model by means of qualitatively grave actions directed at overturning the constitutional order." In 2010, the high court approved the aggravated life sentences, calling attention to how the evidence was handled in accordance with the law and how in the examination of the file as a whole, it had found no irregularities in the conviction rulings. It further found that those sentenced had applied a strategy of "teblig (propaganda), congregation (forming a structured organization), and jihad (armed terror)" to constitute the armed wing of the organization, and, having attacked with meat cleavers and firearms those whom they viewed as being against Hizbullah, were personally responsible for their 91 deaths. The men said that they had been forced to commit these murders because they could not stand the torture that they had undergone during long detainments.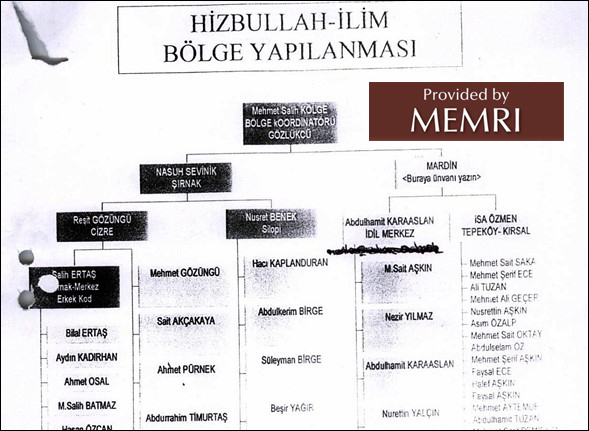 A photo of a document showing a portion of the organizational structure of the branch of Hizbullah under Kölge's direction.
On May 13, 2022, T24.com reported that the government had released from prison three more Hizbullah members responsible for 48 operations in which they had killed 28 people, wounded 14, kidnapped one, and torched four vehicles. The court detailed the evidence of the murders that the three men, Bilal Soytaş, Sadun Çiğdem and Fırat Nart, had committed in a 780-page document, convicted them on the charge of "tearing down the constitutional order by force of arms," and given them aggravated life sentences.