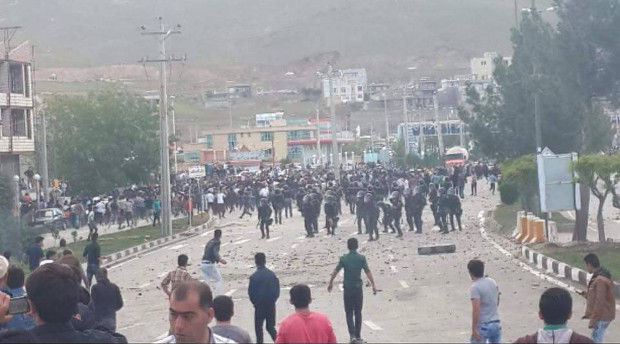 On 7th of May 2015, a large crowd was gathered in front of Tara Hotel of Mehabad city to protest and condemn the act of Iranian government in protecting intelligence agent who attempted to rape a Kurdish girl working in the Hotel.
As number of protesting people were increasing, Iranian authorities sent security forces to disperse the crowd, however the furious crowd attacked the hotel and shattered the glasses with stones. Additional security forces were sent to the scene however the crowd fought back until another batch of security forces were sent who were equipped with rifles and tear gas grenades. The new forces opened fire at the crowd and thrown tear gas grenades however after two hours of conflict, security forces withdrawn from the scene and the crowd burned down the hotel. Fire fighters arrived to stop the fire but the angry mob intervened and asked the fire fighters to let it burn to the ground. According to local sources and it is not yet confirmed, during the clashes between Kurdish civilians and security forces, two people lost their lives and several people were injured and were taken into hospital for treatment.
Ferînaz Xosrewanî (Farinaz Khosravani)‬, was a young Kurdish girl who was working at a local Hotel in ‪Mehabad‬ in Rojhelat. According to some sources from Mehabad, the hotel owner aspired to improve his hotel from a four star rating to a five star hotel. During his negotiation with the regime authorities an Ettelaat officer in charge of the case promised to increase the hotel rating in exchange for the hotel owner arranging an illicit meeting with him and Farinaz. On the appointed day, the hotel owner and officer locked Ferînaz in one of the hotel rooms. Ferînaz, understanding the intention of the officer instead chose to escape by jumping to her death from the 4th floor of the hotel.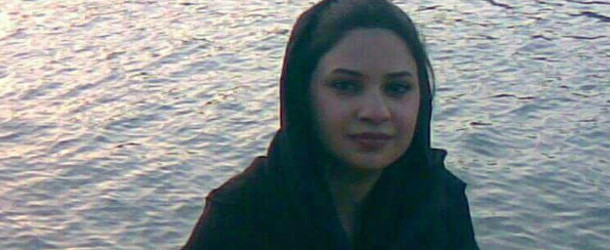 Photos of Mehabd clashes 07.05.2015 from social medias: