Jihad and Terrorism Threat Monitor (JTTM) Weekend Summary
The following are some of this week's reports from the MEMRI Jihad and Terrorism Threat Monitor (JTTM) Project, which translates and analyzes content from sources monitored around the clock, among them the most important jihadi websites and blogs.
EXCLUSIVE: Pro-ISIS Telegram Channel Claims American Recruit Coordinated With Libyan ISIS Leader, Purchased Police Uniform For Operation; Threatens London Politicians, Police, Restaurants, Hotels, Jewish Community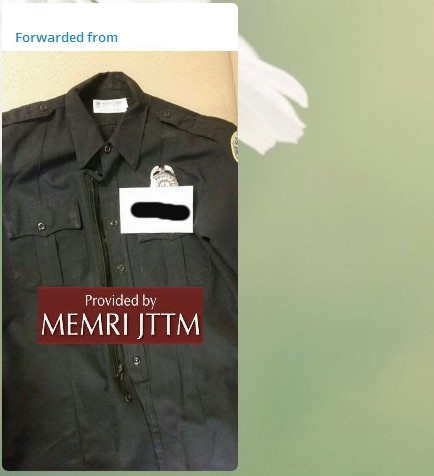 On March 30, 2017, a pro-ISIS Telegram channel, issued a series of threats to British politicians, news presenters, top London hotels and restaurants, Jewish areas, police stations, and army bases. The first post in a long series of messages claimed that an American ISIS recruit coordinated with an ISIS figure in Sirte, Libya to obtain a police uniform. The initial message was followed by a list of people and places to target in London and the U.K. in general.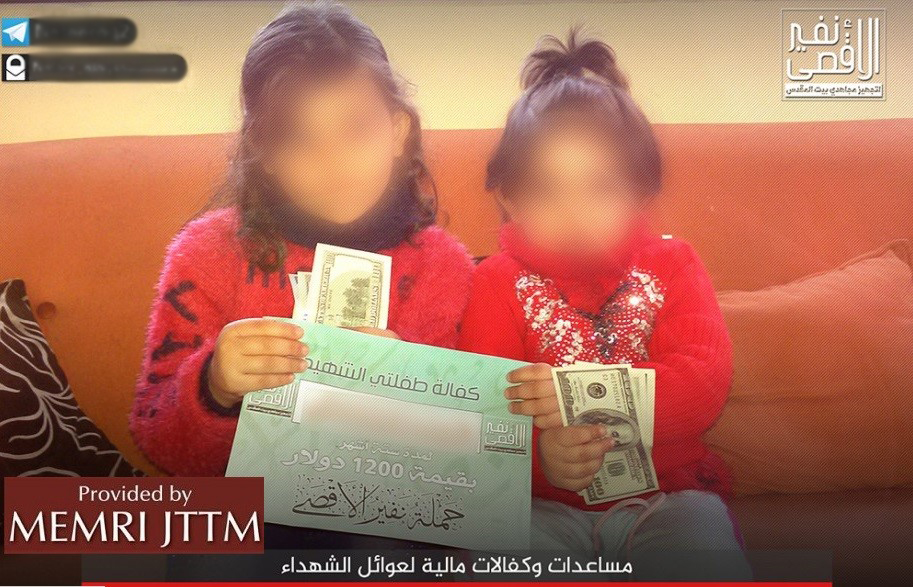 The Hamlat Nafeer Al-Aqsa ("Mobilization For Al-Aqsa Campaign") is an ongoing campaign to fund the mujahideen and families of martyrs in Gaza launched in 2014. The campaign, organized by Salafi-jihadi elements in Gaza, had previously operated primarily on Twitter, raising funds to finance jihadi military and other operations, and to provide assistance to the families of martyrs.
In December 2013, a Belgian national named went to Syria and joined ISIS, but returned to his native Belgium shortly thereafter. He has been very vocal about his experiences waging jihad, and has even authored a book on the topic. He continues to espouse his pro-ISIS views on his Facebook account, and is Facebook friends with several Westerners, a handful of whom are from the U.S. For example, the former militant has photo albums dedicated to fellow European ISIS fighters, and his Facebook profile picture is from a recent ISIS video release.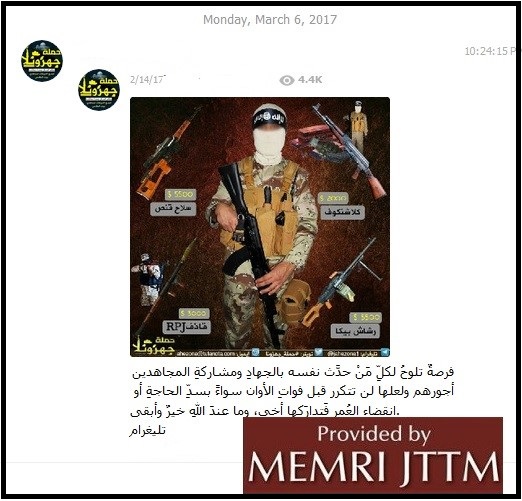 The Jahezona ("Equip Us") campaign, which was launched in July 2015 for the purpose of raising funds to procure weapons in the fight against "the Jews," continues to solicit donations on Telegram. The campaign is organized on behalf of the Salafi-jihadi organizations in Gaza, and people can contact the campaign organizers via the secret chat function on Telegram.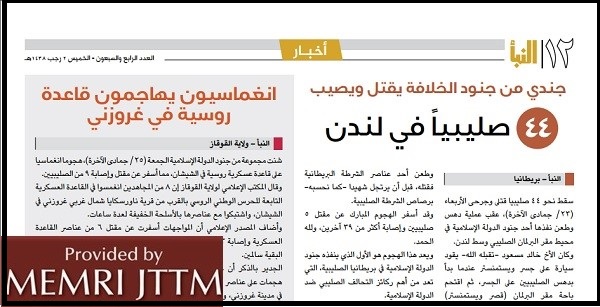 On March 30, 2017, ISIS's weekly newspaper Al-Naba', reported that the March 22, 2017 attack in London, which it called the "Westminster Attack," was perpetrated by "one of ISIS's soldiers" and noted that it was the first attack carried by ISIS in the "Crusader" Britain.
Introduction
On March 29, 2017, the Dubai-based TV network Akhbar Al-An aired a piece revealing the identity of ISIS's drone engineer. The piece was prepared by Akhbar Al-An reported Jinan Musa, and features the engineer's full name, nom de guerre, images, and other personal details.
The following report is now a complimentary offering from MEMRI's Jihad and Terrorism Threat Monitor (JTTM). For JTTM subscription information, click here.
On March 26, 2017, the information office for ISIS in Diyala Province, Iraq, published a 37-minute video titled "Persia – Between Yesterday And Today." Most of the video is in Farsi, with some parts in the Baluchi dialect, and is accompanied by Arabic and Farsi subtitles, and features a narrator and speakers calling on Iranian Sunnis to rise up against the Shi'ite regime and join the path of jihad.
In recent days, following the March 22, 2017 attack in London, Islamic State (ISIS) media activists are reinvigorating the organization's efforts to instigate attacks in the West.
To this end, ISIS media outlets are republishing calls to carry out attacks by the organization's late spokesman and head of its external operations division, Abu-Muhammad Al-'Adnani, who was killed in an August 2016 U.S. airstrike. ISIS media activists are also taking to social media to encourage followers to carry out attacks.
The following report is now a complimentary offering from MEMRI's Jihad and Terrorism Threat Monitor (JTTM). For JTTM subscription information, click here.

On March 26, 2017 the Islamic State (ISIS) Ninawa province issued a series of pictures documenting the execution of a man accused of having homosexual relations, by members of the ISIS Hisba religious police in that part of Mosul that remains under ISIS control. The pictures provide a stage by stage account of the public execution process.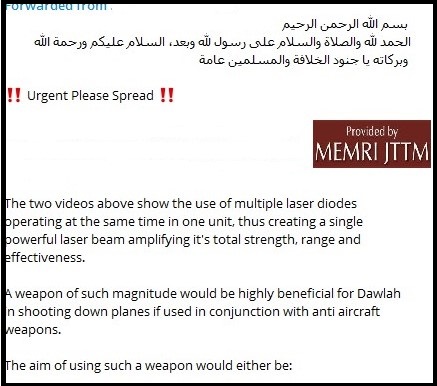 On March 28, 2017, an ISIS supporter shared several posts on the Telegram channel that included detailed instructions on how to utilize laser diodes to shoot down planes. The posts discuss at length how such lasers could blind a pilot and short circuit aircraft sensors or cameras.
On March 28, 2017, a user created a post on Telegram advising fellow ISIS supporters to download the Your Freedom app, which generates a fake location or IP address.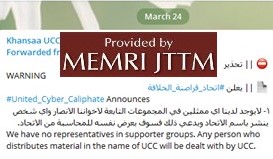 On March 24, 2017, the United Cyber Caliphate (UCC) announced on its Telegram channel that the hacking group will only use Telegram as a social media platform.
www.mesop..de