2014-06-26 19:46 GMT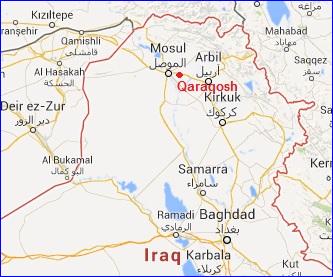 (AINA) — Nearly all of the population of Qaraqosh, 50,000 Assyrians, has fled the city amid fighting between ISIS and Kurds. Syrian Catholic Archbishop Mar Youhana Boutros Moshe attempted to negotiate with ISIS and the Kurds to convince them to leave the city, but the negotiations failed. ISIS and the 'Revolutionary Tribes' (Sunnis) are set to storm the city.
According to Bishop Yousif Habash of the Syriac Orthodox Church in New Jersey, Qaraqosh (also known as Baghdede) is now almost completely abandoned. A source reporting from Qaraqosh told AINA the population has fled to Arbel, Dohuk, Alqosh, Tel Kepe, Telsqop and Ankawah. Monasteries and churches are filled with displaced Christian refugees from Baghdede. There is an urgent need for food, water, medical aid and blankets.
Kurdish forces and ISIS pounded each with mortars. The Kurds have positioned themselves on the east of the Qaraqosh, ISIS and the 'Revolutionary Tribes' have stationed themselves on the west and south side, near the villages of Tawajna and Qurtaba-Arab and south of Balawat.
ISIS has given the Kurdish forces an ultimatum to leave by 7 P.M. else face an attack.